Claire Washington-Smith Chair of Rego Group Limited shares her recent Dubai-bound business trip experience last minute flight cancellations and a few of the benefits to being an active part of the Women In Exhibitions Network when travelling solo.
What were your aims on the business Trip?
To launch Rego services in Dubai to our current clients and prospective clients. One of my aims was to meet with as many of the WIE Middle East Chapter as possible.
What were the outcomes?
I did achieve this and I found I didn't have enough time to connect with everyone.
What are your future plans?
To travel as soon as we can with some of our UK team and to start our exciting recruitment campaign to support our services in the UAE.
Rego is a legacy business of over 25 years in the making and extending our global reach over to Dubai, marks a significant phase in this evolution and our future-centric vision. I had visited Dubai in 2019 with a view to launching Rego Dubai and I felt equipped and excited to return in January 2021. Reflecting on developments since my initial visit, the most significant and inspiring has been the inception and extension of the Women In Exhibitions Network and more specifically their Middle East chapter. The network exists for a number of reasons, not least to move the event industry towards global networking, mentoring and professional development, to name a few. The initial plan was to meet a number of partners and clients over an eleven day period with Rego CFO, Simon Cole. As current circumstances dictate, strict testing and certification of being fit to travel were necessary. Unfortunately Simon tested positively and so I made preparations to travel on my own.
How did Women in Exhibition Network help you?
The Women In Exhibitions Network were true to their title and with their guidance I was not alone during this pivotal trip. WIE actively and helpfully supported my visit, facilitating networking, exploring the region and offering insight and expertise on the best way to progress our business. I would have been able to pre-arrange specific meetings with existing contacts, reconnecting and staying connected is essential but virtually and from 'afar' this still has it's limitations. WIE forged the way for me to make new connections, helping me to quickly build trust and developing new relationships in a short space of time.
I really can see how this network is going to benefit us all as we move forward. As a UK Chapter Founder, I know from being involved in some of the early conversations, that a strong common ethos is key. This has underpinned the key themes of the WIE Academy coaching programmes (Layered Development Programmes) developed by our Rego team. This is a key aspect of the WIE development as it grows to become a world-wide organisation and industry staple.
How did you experience Dubai in these times?
When I left the UK in lock-down, I was prepared to accept what I thought would be a similar situation when I arrived in Dubai, however when landing and prepared with all my business forms, medical certification and answers ready, I found it very different to expectations. Dubai has taken positive steps to deal with current events and has been successful in finding an effective way to do so, alongside a well-managed business continuity strategy. It has been a really interesting and useful comparison to make.
I think that most people would describe our industry as a 'small world' that spans the world. It was great to meet Samantha Kane, exhibition guru and Victoria James from Hyve (Exhibition Director BETT MEA) and they are good examples of great people on the ground, who can give you so much valuable insider-information and it is so helpful that they know, what you need to know. Victoria suggested that we met in the Lime Tree cafe which was amazing and I went back there twice as it was so good. Sharing, spreading and benefiting from this knowledge is part of the value of WIE, so here is the link to: www.thelimetreecafe.com – you won't be disappointed.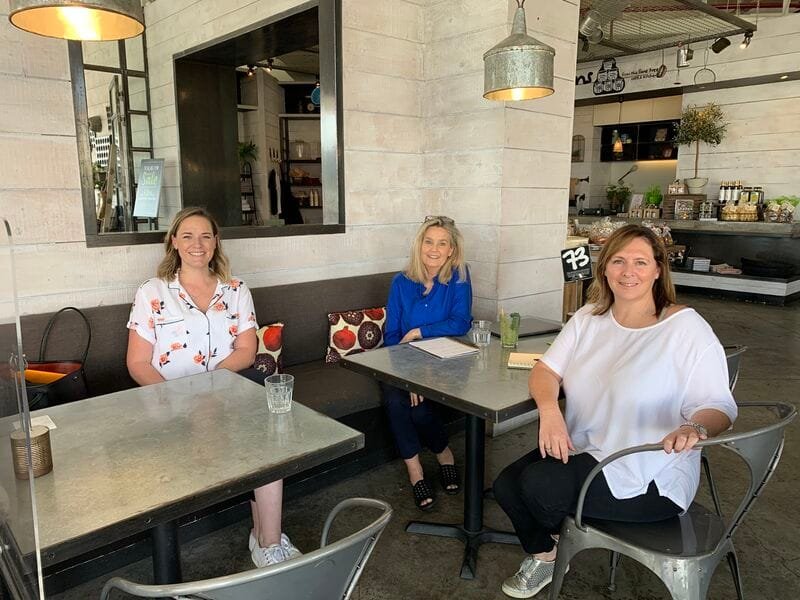 I also met with Nathalie Visele, Director of Shamal Communications Exhibition PR and marketing. Nathalie went out of her way to share her industry acumen and offered continued support on the business front. Spending time with Donna Hyland, GM at GES EMEA confirmed that this is clearly a company which continually sees the opportunities in the region and is actively pursuing them with 'show ready stands' and GES Events. It was reassuring for them to hear that Rego were going to be operating there as another supplier.
During this year, subject to travel corridors, Rego will be running a campaign to build local partnerships and recruit a team of flexible staff, trained in the Rego Approach as managers and hosts for the new hybrid model of events and exhibitions. This is positive for local business, the Dubai community and sustainability – ensuring that we have access to a local expert team.
I had a wonderful meeting with Nadege Noblet, formerly from REED and now making waves in the travel and tourism sector. Nadege has now founded her own business Nanou Destination and Hotel Marketing – a bespoke agency for tourism, emerging unique destinations and independent, boutique hotels. Nadege proffered so much information and recommended lots of business leads for the future contact. She also shared with me all the places I want to visit on my next trip, including those to visit for great natural healthy food which is a passion of mine and Dubai now has all the options available.
When preparing to return to the UK I had been monitoring the news and unexpectedly on the day before I was due to fly, I received the news that all direct flights to the UK had been cancelled and I no longer had a flight home. Despite the buzz of so many great meetings just behind me and such a positive and productive business trip, I was still concerned by the challenge of homeward travel. I had to remind myself to think practically, take action and trust that I can deal with whatever happens….pretty much like you do when you are running an event.
The WIE Academy talks about the Rego Approach© allowing you to achieve the mental optimum in difficult situations. After a great visit, timing COVID-19 tests, finding alternative flights were all things I had to accept and overcome. Even the final hurdle on entering the UK Customs Officer found it difficult to accept that I had been on a business trip rather than sunning myself with a luxurious cocktail, poolside. This could have tainted the overall outcomes and successes of the trip if I had succumbed.
It is not always convenient to travel. It is not always easy to meet virtually. In the exhibition and events sector success means mastering the unexpected – with style and flair.
Looking forward to seeing many new members and welcoming you to the Layered Development Programme starting in March 2021.
Claire and the Rego Team