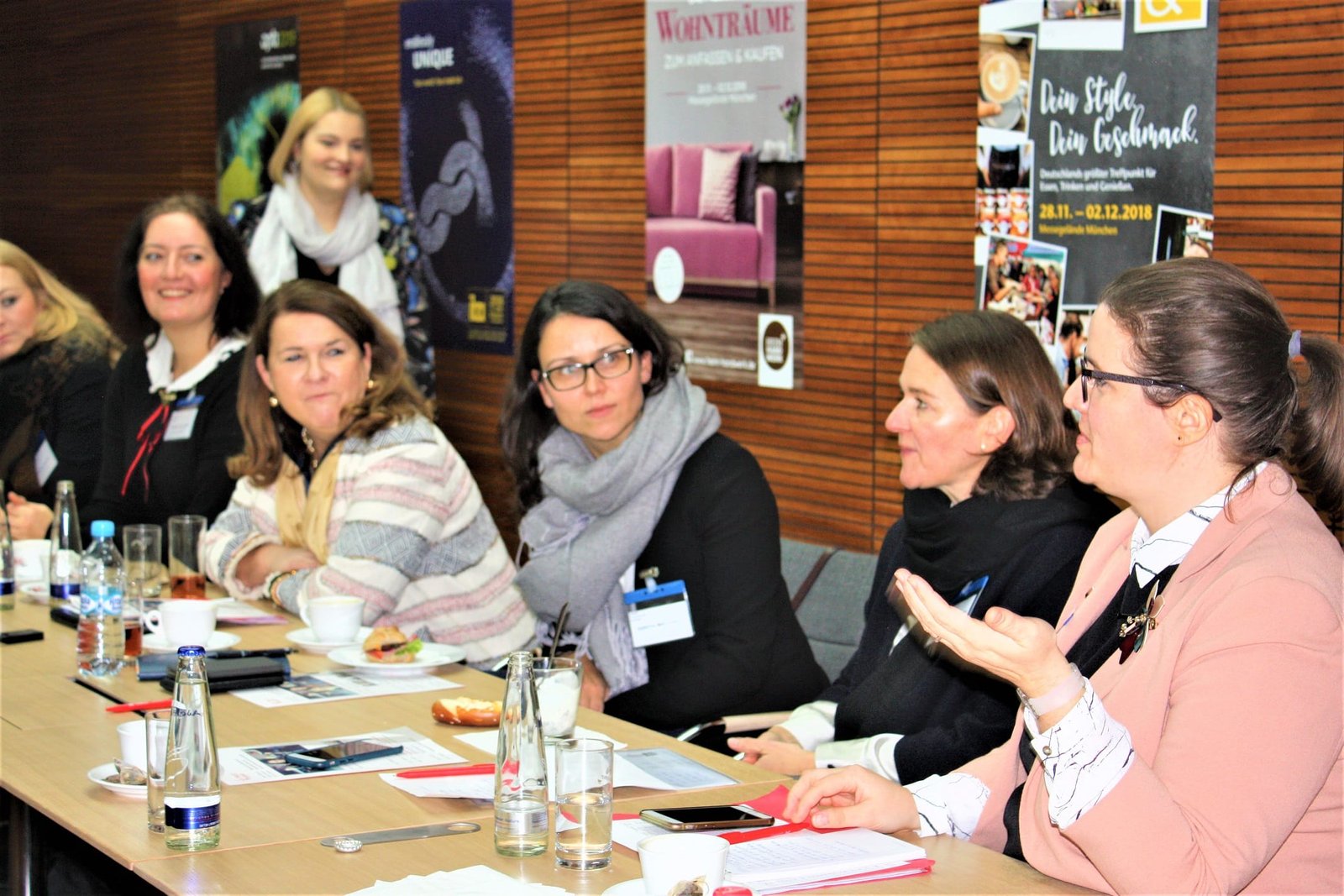 How Micro-Political Competences Help Women Recognize and Use their Scope of Action
On 14 December 2018 we met at GHM in Munich, Germany with an international audience of women from the exhibitions industry for a one full day of workshops, inspirational sessions and networking diner. The moderator of the day was our lovely colleague Ms. Karla Juegel who leaded the session on Getting to know each other in a way that created trust and openness among the audience.
We kick-started the sessions with Lucinda Douglas as our surprise speaker. Known worldwide as the YES YOU CAN WOMAN, she is a true ambassador of women empowerment and an inspirational speaker on many occasions. Lucinda's story is one of a kind. She definitely surprised and inspired us in the early morning.
In a round table setting, the one – day event gave plenty of space to women in our industry to talk about and acknowledge the challenges women face in our industry. As part of the program we offered the stage to a prominent line-up including:
Barbara Weizsaecker, Secretary General at the European Exhibitions Industry Alliance
Kirstin Deutelmoser, Director Partner & Guest Events at Messe Düsseldorf
Silke Hoersch, Executive Director at Ungerboeck
Lucinda Douglas, The Yes You Can Woman, Inspirational Speaker on many occasions
The panel was confident that: "We all must consider to increase female representation at senior level by encouraging younger colleagues to be ambitious and practically support them on their path to the next level."
The afternoon was entrusted to Dr. Klaus Doppler, Management Consultant, Coach & Trainer for Change Management & Corporate Development in Profit & Non-Profit Organizations. He is a psychologist and trainer for group dynamics and leadership, co-founder of the magazine 'Organizational Development' and author of numerous publications in relation to leadership and change. He encouraged the audience to building-up micro-political competences to recognize and use their scope of action within their business career. Aspects like personal qualification, profiling, career and self-marketing. The session resulted in a lively conversation among the attendees and stimulated to share their experience with other role models in our industry.
In the evening we had planned a Christmas market visit in Munich and had dinner together at Pieroth Wine Loft, one of the best restaurants in town. The feedback after the event was overwhelming. Besides being a great networking day with like minded from the industry, it was especially a day of true connection among the audience that is of importance for a lifetime.